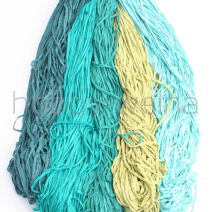 Cotton tricot ribbons, obtained from recycled knitwear slivers, packed in 
color sets of total weight approx. 1 kg.
4-5 hanks in different shades of various weight in the set.
Perfect for weaving the rugs on looms, The tricot is soft and not 
stretching, with nice edges, laying well between the threads of the warp.
You don't have to cut laboriously the stripes from old textiles, nor make the compositions of snippets. The rugs woven from the ribbons will be beautiful house decoration and maybe they will take You to the Forest, Sky, Rose Yard, Moorland, See.
The ribbons may also be use to hoocking f.ex. bags, rugs.